Best Management Practices
Welcome to this free-access website of Best Management Practices (BMPs) for oil and gas development in the Intermountain West. Developed as a project of the University of Colorado (CU) Law School's Getches-Wilkinson Center (formerly Natural Resources Law Center).
AS OF 12/31/19, THIS WEBSITE IS NO LONGER BEING UPDATED AND MAINTAINED. For more information, see ABOUT US.
BMPs are state-of-the-art mitigation measures applied to oil and natural gas drilling and production to help ensure that energy development is conducted in an environmentally responsible manner (see the Bureau of Land Management BMP website).
The focus of this website is a searchable database addressing surface resources affected by oil and gas development. The database includes both mandatory and voluntary BMPs currently in use or recommended for responsible resource management in the states of Colorado, Montana, New Mexico, Utah, and Wyoming.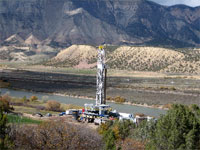 The BMP database is not intended to represent a consensus on what the best practices are for specific applications nor to advise users on the current legal requirements for specific locations. Rather, the database describes each practice and documents the source of the practice (who requires or recommends it in what specific applications). The database provides a link to the source of the BMP and, where possible, it provides supplemental information, including construction specifications, illustrations, pictures, maps, monitoring reports, and evaluations of the potential of the practice for mitigating impacts of development. Because practices change over time, database users should check with appropriate authorities to verify the latest requirements and recommendations for your area.
Training and Workshops
View our complete list of Workshops and our calendar of upcoming events.
There are currently no upcoming events/workshops. Please check back for updates.
We welcome requests for training in the use of the BMP Database. To arrange a training or for help with a custom search, contact us!
Resources
For background information on oil and gas development issues, click on RESOURCES or go to:
• Air Quality
• Coalbed Methane
• Community
• Comliance and Enforcement
• The Development Process
• Economics of BMPS
• Geographic Information Systems for Oil and Gas
• Hydraulic Fracturing
• Induced Seismicity
• Memorandum of Understanding
• Public Health
• Reclamation
• Solid Waste
• Vegetation
• Water Quality
• Water Quantity
• Wildlife
Laws & Policy
Our federal, state, and local laws pages provide brief summaries of the laws, regulations, and agency policies and guidelines of particular importance to regulation of oil and gas development. They also provide links to the codes, regulations and to the agencies in charge of regulating the industry.
Check out our new comparative legal databases of water quality, water quantity, and air quality statutes and regulations pertaining to oil and natural gas activities (Choose from the Environmental Health category).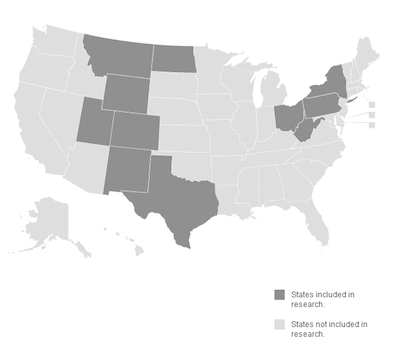 EFD Program
The Environmentally Friendly Drilling Systems (EFD) program provides unbiased science to address environmental issues associated with oil and gas activities. The EFD program sponsors have been supporting our BMP effort.
The EFD Program is currently testing various technologies. Further information about the program may be found at: www.efdsystems.org. For a brief summary of EFD research, see the 2015 EFD Sponsors' Report.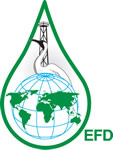 BMP Categories
The database includes BMPs to address a variety of resources and issues...
BMP Search
What management practices are recommended or required for oil and gas development? To find out, use the drop down menus or type Keywords. For a more refined search, click "Advanced Search" or use the BMP SEARCH button.
Search the Bibliography
Our searchable bibliography includes over 400 publications, including environmental impact statements, agency guidelines, and many technical reports, websites, and journal articles prepared by government agencies, academics, environmental advocacy groups, and industry. These publications are:
• Source Documents from which we have derived BMPs for the database, and
• Supplemental Documents that provide more detailed descriptions of specific BMPs or background information on oil and gas development and its impacts (cited on our RESOURCES pages.)
You can browse the bibliography alphabetically by title or search the bibliography by words in the title, author or a brief annotation. All document citations are linked to a full text .pdf copy or an internet link.
Help
To print search results, click the "File" button on your web browser's tool bar, then click "Print". Records obtained from your Basic or Advanced search are automatically formatted for printing.
You can also copy and paste data into Excel if you are browsing with Internet Explorer or into Zoho, if using Safari.
For help with composing your search or with exporting or printing results, please contact us or see our Help page.
What's New
Induced Seismicity
The final project of the BMP Project was completed in December 2019 in conjunction with the Colorado Collaboratory for Induced Seismicity. This project created a database to compare regulations of seven states and the EPA regarding management of Class II injection wells. See the Induced Seismicity webpages for a summary of the issues and links to the work of the Collaboratory. See Regulating Underground Injection for links to the project's summary report and searchable datasets on the LawAtlas platform.
Local Government – Operator MOUs
The BMP Project has recently expanded the project's searchable databases with Colorado MOUs and their BMP provisions.  The BMP Project has also partnered with CDR Associates to conduct a stakeholder assessment regarding the use and potential use of MOUs to address oil and gas development within Colorado's regulatory framework.  For more information on MOUs and the stakeholder assessment, see the MOU webpage.
ALSO: Check out "Protecting Source Water in Colorado During Oil and Gas Development" , released August 2016. The report is intended for water providers and community members interested in learning more about regulatory and non-regulatory measures to protect water quality.
Partners
The structure and content of this website was developed in conjunction with project partners and advisors from government, industry, the conservation community, academia and landowners. For information on our partners, see ABOUT US
Contributing to the BMP Database & Dialogue
To access or share information about a particular BMP or a resource topic area, or to make suggestions on the database or website, go to the ADD INFO page.
You can also contact us by email or telephone. Go to the ABOUT US page for details.