Species of Special Concern
Sage Grouse
For an in-depth look at sage grouse species, habitat requirements, and landscape management for sage grouse see the plans of the Western Association of Fish and Wildlife Agencies, individual state agencies, and collaborative working groups. Resources on these links discuss effects of oil and gas development on grouse, strategies and practices for habitat management within oil and gas fields, and monitoring practices.
Western Association of Fish and Wildlife
Greater Sage-Grouse Comprehensive Conservation Strategy
Colorado
Greater and Gunnison Sage Grouse Conservation Plans
Wyoming
Wyoming Sagebrush/Sage Grouse Management (Wyoming Game and Fish Department)
Sage Grouse Management (Petroleum Association of Wyoming )
Greater sage-grouse population response to natural gas field development in western Wyoming
Sage Grouse Winter Habitat Selection and Energy Development in the Powder River Basin: Completion Report
Sage-grouse Population Response to Coal-bed Natural Gas Development in the Powder River Basin: Interim Progress Report on Region-wide Lek-count Analyses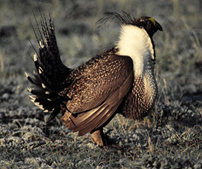 Biodiversity Conservation Alliance - Additional Sage Grouse Studies
Western North America
Adaptive management of prairie grouse: How do we get there?
Development in Western North America: Effects on Sagebrush Steppe Avifauna with Particular Emphasis on Sage-grouse
How Many is Too Many: A Review of Road Density Thresholds for Wildlife
Threatened and Endangered Species
The Endangered Species Act (ESA) is a powerful federal law that regulates management of threatened and endangered wildlife species through critical habitat designations and strict controls on activities that could cause harm to protected species. The U.S. Fish and Wildlife Service administers the ESA as it applies to both private and public entities, but state wildlife agencies play a cooperative role in the listing and management of threatened and endangered species. For background information on the ESA, see the Red Lodge Clearinghouse Website: LAWS: Endangered Species Act.
State Species of Concern
States also designate species of state concern and develop management strategies for those species to prevent a need for federal listing as threatened or endangered. See the following links for information on state species of concern.
Colorado
Colorado Division of Wildlife, Species of Concern
Colorado Natural Heritage Program
Montana
Montana Fish, Wildlife and Parks - Species of Interest
Montana Natural Heritage Program
New Mexico
New Mexico Wildlife Conservation - Species of Concern (BISON-M)
Oil and Gas Development Guidelines, Conserving New Mexico's Wildlife Habitats and Wildlife
Utah
Wyoming
What Do We Know?
State wildlife agencies, academics, industry and conservation groups all want to understand the impact of development – including oil and gas development – on wildlife populations. Many entities are sponsoring and participating in research projects and wildlife monitoring efforts throughout the Intermountain West. The following are links to agency web sites and to a small sampling of that research. Please help us bring more of this research to our web site community. Click the ABOUT US button to contribute information for this section.
General
Research and Publications, Our Public Lands, National Wildlife Federation
Sportsmen For Responsible Energy Development - Sportsmen For Responsible Energy Development is a coalition of businesses, organizations, and individuals seeking to ensure that oil and gas industry interests are balanced against the need to protect the air, water, wildlife, and way of life in the Rocky Mountain West.

Recommendations for Responsible Oil and Gas Development & The Sportsmen For Responsible Energy Development Bill of Rights
Colorado
Colorado Parks & Wildlife -Research
Literature Review of Oil and Natural Gas Development Impacts on Prairie Grouse
Montana
Montana Division of Fish, Wildlife, and Parks
Montana Comprehensive Wildlife Strategy
New Mexico
New Mexico Game and Fish
Conservation webpage - includes reports on various issues
Habitat Fragmentation and the Effects of Roads on Wildlife and Habitats
Utah
Wyoming
Wyoming Game and Fish Department
Wyoming Game and Fish Department Homepage
Wyoming Wildlife and Habitat Information
Recommendations for Development of Oil and Gas Resources within Important Wildlife Habitats (v6, April 2010)
Wyoming Landscape Conservation Initiative

Wyoming Wildlife Federation: Oil and Gas Development Research and Publications.

Western Ecosystems Technology Incorporated (WEST Inc). is a private environmental consulting company that performs development impact studies, primarily in Wyoming, for both the federal government and private industry. See their Reports and Publications page for relevant research on big game and oil and gas development.
Big Game Species
Effects of Roads on Elk: Implications for Management in Forested Ecosystems
Wyoming Pronghorn Working Group
Western Association of Fish and Wildlife Agencies Mule Deer Working Group: Mule Deer in the West - Changing Landscapes Changing Perspectives.
Lesser Prairie Chickens and Wild Turkey
Ecology and Management of the Lesser Prairie Chicken
The Relationship of Rio Grande Wild Turkey Distributions to Roads
Grizzly Bear
Analysis of Road Densities in Selected Grizzly Bear Management Units in the Northern Rockies
Review of Oil and Gas Exploitation Impacts on Grizzly Bears
Fish
Effects of Coalbed Methane Development on Great Plains Fish Assemblages
The Landscape Approach
Understanding and protecting resources on a landscape scale is also important to maintaining the biodiversity and unique character of the Intermountain West. What does it mean to work at a landscape scale and why is it important? What is habitat fragmentation and how can it be minimized in responsible oil and gas development? See the following resources to help answer these questions:
Wyoming Landscape Conservation Initiative (WLCI)
The WLCI is a multi-partner, long-term, science-based program to assess, monitor, and enhance aquatic and terrestrial habitats at a landscape scale in southwest Wyoming, while facilitating responsible development through local collaboration and partnerships.
Western Governor's Association - Wildlife Corridors Initiative
The Wildlife Corridors Initiative is a multi-state and collaborative effort to improve knowledge of and management for migratory corridors and crucial habitat.
Wildlife Mitigation Plans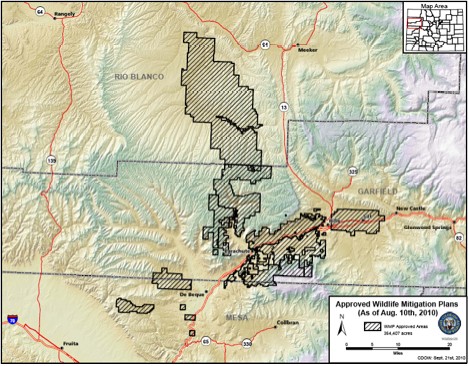 In Colorado, energy companies have the option to voluntarily work with the Colorado Division of Wildlife (CDOW) to create a Wildlife Mitigation Plan (WMP). In developing the WMP, energy companies agree to Best Managment Practices (BMPs) and other measures that are expected to help "avoid, minimize, and mitigate impacts from oil and gas activities to wildlife." Species of concern in the plans will vary by location, but are likely to include elk, deer, raptors, sage grouse, and cutthroat trout. A WMP benefits wildlife and the CDOW as the plan is effective in long term wildlife planning on a landscape scale.  For energy companies, having a plan in place eliminates the need to consult on mitigation measures with CDOW and other parties when submitting individual drilling permit applications.
In the plan, energy companies may also commit to perform or fund off-site mitigation to address impacts that cannot be avoided or minimized as well as fund CDOW research to learn how to better manage wildlife. Because a WMP is specific to a certain energy company, BMPs and other measures agreed to in the plan will vary for each WMP.  By late 2010, over 320,000 acres in western Colorado were covered in WMPs developed with seven companies.
For a summary of WMPs in western Colorado, see the WMP status report.
Some Best Management Practices included in Wildlife Mitigation Plans:
Rule 1202 d:
Consultation under Rule 306.c shall not be required if: . . . (2) The Colorado Division of Wildlife has previously approved, in writing, a wildlife mitigation plan or other wildlife protection or conservation plan that remains in effect for the area that includes the proposed new oil and gas location and the oil and gas location is in compliance with such plan
Locate roads as far from riparian areas and bottoms of drainages as possible and outside riparian habitat
Manage traffic
Use temporary living camps to house the resources needed to support the drilling operations
Avoid or attempt to avoid drilling