Source Water Protection
Drinking water comes from both ground water and surface water sources.  While all fresh water is a precious commodity in the arid West, drinking water sources deserve special protection.  Many activities, including oil and gas development, can deplete or contaminate drinking water sources.  Surface water can be contaminated by stormwater runoff and spills. Ground water can be contaminated through surface spills, leaking waste pits, or poor disposal practices. In rare circumstances, a poorly constructed oil and gas well may allow gas and other pollutants to escape due to incomplete casing or cement failures.  On a national level, EPA provides a variety of resources for mapping source water areas, assessing the potential for contamination, and planning for source water protection.  For information on protecting ground water sources during underground injection disposal of wastewater, see the EPA UIC Class II webpage or see "Disposal Issues" on our Water Quantity Resource page.
Stormwater Runoff
Pollution from stormwater is an issue with all types of development from urban to rural areas. Regulation of stormwater discharges from oil and gas exploration, production, processing and treatment activities has been particularly controversial in the last few years. Resources on EPA's web pages address both the problem and some of the solutions.
Regulation of Oil and Gas Construction Activities – A summary of the issues, legislation, regulations and litigation
Stormwater Pollution Prevention Plans for Construction Activities – Information on Pollution Prevention Plans, permitting and BMPs
Construction Site Stormwater Runoff Control – Addresses key BMPs to help municipal stormwater programs and construction site operators comply with the stormwater Phase II requirements.
Regulating Stormwater – The Role of Federal, State, and Local Governments in Colorado – Explanation of the stormwater regulatory scheme and an example of how the regulatory scheme works in Colorado
Pit Pollution
Pits – circulation, water storage, completion, flowback, and reserve – are dug to hold fluids and solids during well development and to dispose of waste from production. Pits may be lined or unlined, and their contents may be disposed of in many ways. Best management practices are essential for limiting pit pollution of both surface and groundwater
New Mexico Oil and Gas Conservation Division
Pollution Prevention Best Management Practices (scroll down)
Pollution Prevention Pocket Guide
Earthworks
Alternatives to Pits? Closed-Loop Containment System
New Mexico Pit Rule Mapping Portal
Funded by the RPSEA -Small Producer Program, the New Mexico Pit Rule Mapping Portal generates maps of potential site regulatory issues using government recommended data. These maps will help reduce time needed for evaluation, preparation and review of C-144 forms and attachments and allow better determination of optimal and allowed locations of pits and tanks with respect to current siting criteria.
Hydraulic Fracturing
See our Hydraulic Fracturing page for more information
Oil and gas operators have conducted hydraulic fracturing, commonly known as "fracing," for over sixty years in either vertical or slant wells (this is often referred to as "conventional drilling"). Within the past decade, the combination of horizontal drilling and hydraulic fracturing has been used with increasing frequency in each of the intermountain states to increase the volume of natural gas that can be extracted from tight sand, coalbed, and shale formations, and thereby make the extraction process economically feasible (this is often referred to as "unconventional drilling"). Concerns abound that both the below-ground and above-ground activities associated with fracing may impact water quality. Our Hydraulic Fracturing page contains (1) a general overview of fracing technology, (2) a discussion about the controversy surrounding fracing, (3) a summary of current and pending regulations, and (4) resource documents and websites for further reference.
Coalbed Methane
Coalbed methane (CBM) is a form of natural gas that is trapped within coal seams. CBM is produced and transported with much the same process and equipment as methane from a regular gas field. The major difference is that wells are drilled into the coal seam to first remove water. As the water is removed and water pressure in the seam decreases, the gas is released from the coal and flows through fractures in the coal to the well. The quality of CBM produced water varies widely. Potential uses and disposal methods are controversial.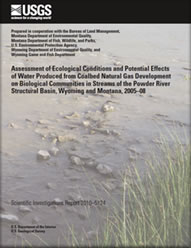 Effects of coalbed natural gas development on ecological conditions in selected streams in Wyoming and Montana, 2005-2008 – A USGS study, done in cooperation with the Bureau of Land Management, Montana Department of Environmental Quality, Montana Department of Fish, Wildlife, and Parks, U.S. Environmental Protection Agency,Wyoming Department of Environmental Quality, and Wyoming Game and Fish Department, evaluated the effects of water produced from coalbed natural gas development on biological communities — aquatic insects, algal, and fish — in selected streams in the Powder River basin in Wyoming and Montana.
For an introduction to CBM development, see our Coalbed Methane page.
State by State
Comparative Legal Database
Improved technological developments in directional drilling and hydraulic fracturing, more commonly known as "fracking," have resulted in an oil and gas production boom nationwide. In October 2013, the U.S. Energy Information Administration announced that the United States would surpass Russia and Saudi Arabia as the world's largest producer of oil and natural gas by the end of the year. The boom has resulted in oil and gas development in regions unaccustomed to the industry as well as in regions that have a century-long relationship with oil and gas extraction. However, wastewater discharges, hydraulic fracturing fluid releases, improper casing/cementing, and other accidental spills pose potential water quality risks in areas where directional drilling and hydraulic fracturing technologies are utilized. Rapid development of oil and gas wells, particularly in urban and suburban areas, coupled with the practice of hydraulic fracturing, has sparked concern for water quality and an interest in laws designed to protect water quality.
This comparative legal database includes statutes and regulations from Alaska, Arkansas, California, Colorado, Illinois, Louisiana, Montana, New Mexico, New York, North Dakota, Ohio, Oklahoma, Pennsylvania, Texas, Utah, West Virginia, and Wyoming. These states overlay major shale formations such as the Bakken, Eagle Ford, Greater Green River, Haynesville, Mancos, Marcellus, Niobrara, Permian, Piceance, Powder River, San Juan, Uinta, and Woodford. State and local governments in these jurisdictions are experiencing new or increased oil and gas development, and there is tremendous value in looking at other jurisdictions to guide statutory construction and rulemaking.
To explore statutes and regulations pertaining to water quality, please visit: www.lawatlas.org/topics, and choose the Environmental Health dropdown menu to access the water quality topics of your choice.
Colorado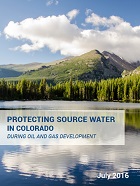 Protecting Source Water in Colorado During Oil and Gas Development - This guide, released August 2016, is intended for water providers and community members interested in learning more about regulatory and non-regulatory measures to protect water quality. The guide outlines how oil and gas development could impact water quality, particularly the "source water" of our drinking water supplies.  The focus of the report is how water providers and local governments can work with regulators and the oil/gas industry to negate potential impacts from oil and gas development to drinking water sources.
Colorado Water Watch - The Colorado Water Watch (CWW) is a real-time groundwater monitoring pilot program developed by the Center for Energy Water Sustainability at Colorado State University. The monitoring system is comprised of a network of water quality sensors capable of detecting changes in groundwater quality due to natural or operational impacts. The data is monitored, gathered, analyzed and reported by CWW and posted on this website to provide information to communities in the DJ Basin.

Monitoring Water Quality In Areas of Oil and Natural Gas Development: A Guide For Water Well Users - This guide from the Colorado Water and Energy Research Center (CWERC) walks water well users through the process of measuring baseline groundwater quality and quantity. It also includes information on how best to monitor that baseline in order to develop a long-term record of groundwater conditions for the duration of oil and gas development near you.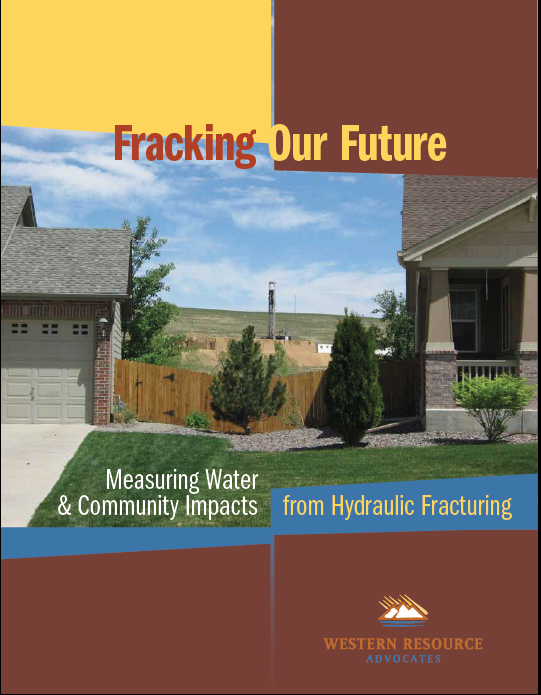 Fracking Our Future: Where's the Water - As large-scale hydraulic fracturing expands throughout Colorado's Northern Front Range, water conservation is becoming a pivotal issue in oil and gas development. Created by the Western Resource Advocates this comprehensive report analyzes the water burdens associated with hydraulic fracturing and provides specific recommendations to guide further oil and gas development in Colorado.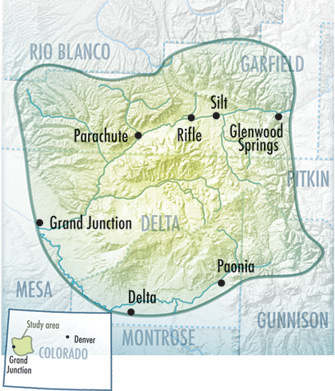 Piceance Basin Water Quality Repository As large-scale energy development continues in the Piceance Basin in northwestern Colorado, there is potential for changes in surface-and groundwater resources. USGS, in cooperation with over 25 entities created a public, web-accessible common data repository combining water-quality data from various sources to establish a baseline assessment of the region's water resources. Collaborative partners supporting the project include the energy industry, local citizens, cities and counties, state agencies, the Bureau of Land Management, private consultants, the West Divide Water Conservancy District, and the Colorado River Water Conservation District. The data will be used to develop regional monitoring strategies needed to fill identified data gaps, and minimize redundancies in current and future water-resource monitoring.
The Water Information Program - Water Rights
Colorado Oil and Gas Conservation Commission - New Rules
COGCC - Text of the rules (click on Rules)
Rocky Mountain Mineral Law Foundation Workshop - The 317B Rules
Earthworks - A Conservation Perspective on the Rules
The Water Information Program: To provide information to the public and community on water topics and water related issues.
Montana
Montana Board of Oil and Gas - Coal Bed Methane Information
Montana Department of Environmental Quality - Coal Bed Methane
New Mexico
New Mexico Oil Conservation Division Rules
NM Oil Conservation Division - Current and Proposed Rules
NM Oil Conservation Division - Highlights of the Pit Rule
Earthworks - A Conservation Perspective on the Pit Rule
Utah
Utah Division of Water Rights - Water Rights
Utah Division of Oil, Gas and Mining Oil and Gas Program - Web site updated with news and changes in regulations
Wyoming
Wyoming Oil and Gas Conservation Commission