Air Quality Basics
What role does oil and gas development play in air pollution?
What are the main pollutants from oil and gas development?
What federal and state laws govern oil and gas development?
Air Quality Issues
Impacts of oil and gas development on air quality is a growing issue across the Intermountain West. Of particular concern are flaring, venting, and the effects of fugitive emissions on global climate change. Below you can find out more about these issues as well as how to reduce their impacts on air quality.
Center for Western Priorities article on Oil and Gas Drilling Linked to Air Pollution.
Flaring and Venting
Gas is vented or flared from oil and gas production equipment for several reasons. Excessive pressure in gas storage tanks and other equipment results in unplanned venting through pressure relief valves. However, the majority of vented gas has nothing to do with pressuring relief. When crude oil is extracted and produced, raw natural gas associated with the oil is also produced to the surface. In areas lacking pipelines and other gas transportation infrastructure, a vast amount of gas is commonly flared as waste.
Vented gas is commonly required by law to be routed to a combustion flare. Flaring greatly reduces the emission of volatile organic chemicals (VOCs) and hazardous air pollutants (HAPs) into the air, although a significant amount of the greenhouse gas carbon dioxide is a byproduct of the process. Improperly operating flares can still allow VOCs such as methane and sulfur dioxide and HAPs like aromatic hydrocarbons and benzapyrene into the atmosphere. Additionally, flares are known to kill large numbers of migrating birds and moths.
Methane and Waste Prevention Rule
Currently, there is a major effort by governments and industry to reduce the practice of flaring, both to curb the waste of natural gas and to reduce the emissions of harmful air pollutants.
On November 18th, 2016 the Bureau of Land Management (BLM) released the Final Rule on Waste Prevention, Production Subject to Royalties, and Resource Conservation (Methane and Waste Prevention Rule). However; in August of 2017 the BLM proposed a broad suspension of the original ruling effectively delaying its implementation until 2019. The reasoning behind the rollback was in part due to Trump's March 2017 "energy independence" executive order which pushes for more domestic fossil fuel development. The BLM stating in their rollback of the Obama-era Methane and Waste Prevention Rule that it would burden domestic oil and gas production. In December of 2017 the States of California, New Mexico and a coalition of environmental groups filed a suit against the Trump administration stating the BLM's rollback was a handout to the oil and gas industry. On February 22nd, 2018 the U.S. District Court for the Northern District of California issued the Order to deny the motion for a rollback on the Methane and Waste Prevention Rule until 2019. On March 14th, 2018, lawyers for the Bureau of Land Management filed a brief at the U.S. District Court for the District of Wyoming stating that oil and gas operators need more time to comply with the Methane and Waste Prevention Rule. The constituents of the rules in the Methane and Waste Prevention Rule can be accessed from BLM's summary of the rules:
Phased flare limits as averaged across all the producing wells on a lease, from 7,200 thousand cubic feet
Bi-annual inspections with use of instrument-based leak detection equipment. Use of infrared cameras or other methods for large scale operations and portable analyzers for small scale operations.
Prohibition of venting associated with natural gas and the implementation of "low bleed" pneumatic controllers in combination with the replacement of pneumatic pumps with solar pumps.
Capture or flare of gas from storage tanks that vent more than six tons of volatile organic compounds.
Revisions for existing royalty provisions at a royalty rate at or above 12.5 percent for new competitive leases. Ensures BLM cannot impose raised rates as conditions change and reduces the burden on operators who are eligible for royalty-free flaring.
ElectraTherm Flare Elimination System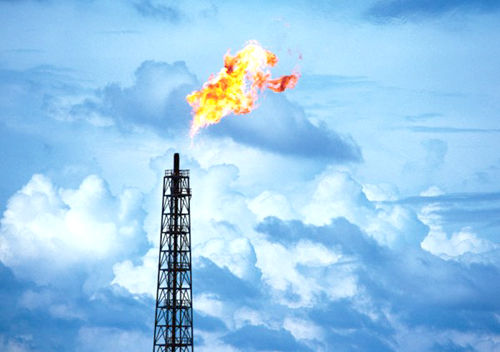 When natural gas cannot be economically collected and transported for sale, flaring can be reduced by conversion of gas to power for use on-site or for addition of power to the grid. For example, the ElectraTherm Flare Elimination System is using an Organic Rankine Cycle and proprietary technology to convert otherwise flared gas to electricity in North Dakota. Raw/untreated gas is used to heat water in an industrial boiler. This low temperature heat is then used to produce electricity in a Power+ Generator.
Glycol Dehydrators
Glycol dehydrators are a major source of hazardous air pollutants (HAPs) during oil and gas production. These pollutants can include benzene, toluene, ethylbenzene, and xylene (BTEX). Read more about glycol dehydrators at PetroWiki.
Fugitive Emissions and Climate Change Effects
In their Overview of Greenhouse Gases, the EPA explains the significance of methane to climate change as well as how much the oil and gas industry contributes to methane emissions nationwide.
Dr. Larson is a research engineer with the Energy Systems Analysis Group at the Princeton Environmental Institute Climate Central. His report, "Natural Gas & Climate Change," details the current state of research into the issue of natural gas leaks during production and distribution and the effects on climate change.
The World Resources Institute offers another comprehensive view on greenhouse gas emissions from upstream natural gas systems. The report compares five of the most cited studies on greenhouse gas emissions from oil and gas development and concludes with how new national regulations will affect the situation. The report can be found here: "Clearing the Air: Reducing Upstream Greenhouse Gas Emissions from U.S. Natural Gas Systems."
A study in the Proceedings of the National Academies of Science concludes that hydraulic fracturing does not appear to contribute significantly to global warming. The study reports direct measurements of methane emissions at 190 onshore natural gas sites in the United States. The measurements indicate that well completion emissions are lower than previously estimated, although the data does show that emissions from pneumatic controllers and equipment leaks are higher than the EPA's national emission projections. The study can be found here: "Measurements of methane emissions at natural gas production sites in the United States."
Air Quality Standards and Monitoring
Monitoring Techniques for Air Emissions
The American Petroleum Institute (API) discusses a process to compare methodologies used by member companies, national governmental bodies, and intergovernmental experts to develop a compendium of emission estimation methodologies. Read the report here.
The API has also developed SANGEA, an electronic greenhouse gas emissions calculation tool. Learn about it here.
The Canadian Association of Petroleum Producers has created a handbook of methodologies and example calculations for estimating volumes of gas released from various oil and gas well site equipment.
The Western Regional Air Partnership is a voluntary partnership of states, tribes, federal land managers, local air agencies and the US EPA whose purpose is to understand current and evolving regional air quality issues in the West. Their ongoing Oil and Gas Emission Inventory Project can be found here.
State Air Quality Regulations
For brief summaries and links to air quality regulations related to oil and gas development, see the Law & Policy page and click on the jurisdiction of choice.
For access to air quality oil and gas regulations from the states, see:
Colorado :: Montana :: New Mexico :: Utah :: Wyoming
How does my state compare to other states?
To compare state air quality regulations, search the LawAtlas Air Quality database
To compare air quality within or between states, go to EPA's AirCompare website
For federal air quality rules, go to the Federal Clean Air Act page, or go to the LawAtlas Air Quality database
Development and Technology
Innovations in technology and process are essential to reducing impacts of oil and gas development

Reduced emissions completions for hydraulically fractured natural gas wells

Recommended technologies and practices from Natural GasSTAR

A guide to emission reduction from the U.S. Forest Service

Using vapor recovery units to prevent tank emissions

Quantam leap natural gas dehydrator

Anadarko, Enhancing Air Quality: Reducing Flashing Emissions

Texas A&M: Capturing Accurate Air Emission Data from Oil & Gas Exploration and Production

EPA guide to Leak Detection and Repair, including infrared camera inspections

Air Quality Studies
In Progress
The University of Texas, several oil companies, and the Environmental Defense Fund are collecting emissions data from drilling to product delivery in four regions — the Gulf Coast, Mid-Continent, Appalachia and the Rocky Mountains. The first study results on Measurements of Methane Emissions at Natural Gas Production Sites, as well as project data sets, presentations and information on further studies, are available on the UT Methane project website.
GSI Environment Inc. (GSI), Texas A&M University's (TAMU) Global Petroleum Research Institute (GPRI) and Institute of Renewable Natural Resources (IRNR), using a $3.5 million grant from the Department of Energy (DOE) Research Partnership to Secure Energy for America (RPSEA) program, are currently developing scientifically-based protocols for assessing stray gas impacts and baseline sampling, air emissions, and produced water. For more information on this project, see: Advanced Analytical Methods for Air and Stray Gas Emissions and Produced Brine Characterization.
Front Range Air Pollution and Photochemistry Experiment (FRAPPÉ)
In July of 2014, scientists at the National Center for Atmospheric Research (NCAR), University of Colorado Boulder and other organizations launched a field project across the northern Front Range of Colorado to track the origins of summertime ozone. The researchers used specifically-equpped aircraft, mobile radars, balloon-mounted sensors and sophisticated computer simulations to measure local and far-flung air pollution sources. The study focused on the urban corridor from south of Denver north to Fort Collins as well as the adjacent plains and mountains.
Recent Results
A study out of the Denver-Julesburg Basin has found that oil and gas operations released nearly two times as much methane into the atmosphere in 2008 as the state realized. The research has been published in the Journal of Geophysical Research, Atmospheres.
A follow-up study, entitled A New Look at Methane and Nonmethane Hydrocarbon Emissions from Oil and Natural Gas Operations in the Colorado Denver-Julesburg Basin, indicated that the hourly methane emissions from oil and gas development in the same area may be as much as three times higher than the emissions estimate based on the EPA's Greenhouse Gas Reporting Program data for 2012. Additionally, the study showed that total emissions of volatile organic compounds this development may be twice as much as what is recorded in the state inventory, with benzene emissions possibly being up to seven times higher than what is recorded.
EPA Needs to Improve Air Emissions Data for the Oil and Natural Gas Production Sector (Office of Inspector General) - The Office of Inspector General of the U.S. Environmental Protection Agency (EPA) evaluated whether the EPA has the data needed to make key decisions regarding air emissions from oil and natural gas production activities. Key decisions include the need for regulations, enforcement and permitting decisions, and risk assessment.
Human Health Risk Assessment of Air Emissions from Development of Unconventional Natural Gas Resources
(McKenzie, Lisa M. et al. Colorado School of Public Health, University of Colorado) - Technological advances (e.g. directional drilling, hydraulic fracturing), have led to increases in unconventional natural gas development (NGD), raising questions about health impacts. This study found that residents living within a 0.5 mile from wells are at greater risk for health effects from NGD than are residents living more than a 0.5 mile from wells.
Colorado oil and gas wells emit more pollutants than expected
(Katy Human, National Oceanic and Atmospheric Administration) - In a five year study, NOAA scientists monitoring the atmosphere's composition at a tower north of Denver found gas operations in the region leaked about twice as much methane into the atmosphere as previously estimated.
Winter Ozone Community Update, Initiatives to Cut Emissions
These slides from a meeting with the Wyoming Department of Environmental Quality(WDEQ) explain what actions the WDEQ took to reduce ground level ozone in Sublette County, WY. The results show that there was an overall decline in Volatile Organic Compounds and Nitrogen Oxide emissions from 2007 to 2010.
Preliminary studies indicate that maternal proximity to oil and gas developments may increase the fetus' chances of developing certain birth defects. A recent study, Birth Outcomes and Maternal Residential Proximity to Natural Gas Development in Rural Colorado (McKenzie, Lisa M. et al. Colorado School of Public Health, University of Colorado), suggests that pregnant mothers living in close proximity (<10 miles) to a large number of natural gas wells may have a more likely chance of having a child with either a congenital heart defect (CHD) or a neural tube defect (NTD). There are several factors, including genetics, which may contribute to a fetus developing either kind of defect, but both have been associated with exposure to benzene and toluene, both air pollutants that can be released by oil and gas development. The study suggests that the risk of a fetus developing these conditions increases with the proximity and/or density of wells around the maternal residence. Further studies are necessary in order to confirm or rejected these findings.
The Weather Channel, InsideClimate News, and the Center for Public Integrity published a report of the health and legal issues troubling families living in the Eagle Ford Shale oil and gas development area in Texas. Read or watch the report here: Fracking the Eagle Ford Shale – Big Oil and Bad Air on the Texas Prairie.
What we know (and don't know) about air quality impacts of oil and gas development – a study of fugitive emissions in the Uinta Basin in Utah and a Martz Conference presentation by Anna Karion.
More Information
Federal and State Contacts: Search by state and find your local air agency's contact information.
EARTHWORKS: EARTHWORKS is a non-profit organization dedicated to protecting communities and the environment from the destructive impacts of mineral development in the U.S. and worldwide.
Natural GasSTAR: This Web site is home to the Natural Gas STAR program that encourages oil and gas companies to adopt efficient and cost effective technologies to reduce emissions.
Red Lodge Clearinghouse: This website is a joint project of the Natural Resource Law Center. This site provides information on the key concepts of the Clean Air Act as well as links to additional information on air quality regulations.