Air Quality Basics
What role does oil and gas development play in air pollution?
What are the main pollutants from oil and gas development?
What federal and state laws govern oil and gas development?
Air Quality Issues
Impacts of oil and gas development on air quality is a growing concern across the Intermountain West. Of particular concern are flaring, venting and other processes that produce methane and fugitive emissions. Below you can find out more about these processes as well as how to reduce their impact on air quality.
Natural Resources Defense Council's article on Oil and Gas Production
Flaring and Venting
Green Energy Solution- Flaring and Venting
The Oil and Gas Commission of British Columbia's Information sheet on Flaring and Venting
Global Forum on Flaring and Venting –
2008 conference proceedings
Methane Emissions
EPA Web site- Major Methane Emission Sources and Opportunities to Reduce Methane Emissions
ICF International on behalf of the Methane to Markets Partnership- Oil and Gas Methane Emission Reduction Best Practices
Fugitive Emissions
Intergovernmental Panel on Climate Change- National Greenhouse Gas Inventories Programme- Fugitive Emissions From Oil and Natural Gas Activities
Air Quality Standards and Monitoring
Monitoring Techniques for Air Emissions
Western Regional Air Partnership monitoring procedures
Estimating greenhouse gas emissions from oil and gas industry operations
Estimating flaring and venting volumes
State Air Quality Regulations
Colorado :: Montana :: New Mexico :: Utah :: Wyoming
How does my state compare to others?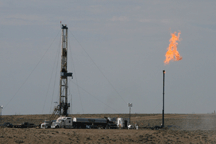 Development
and Technology
Innovations in technology and process are essential to reducing impacts of oil and gas development
Recommended technologies and practices from Natural GasSTAR
A guide to emission reduction from the U.S. Forest Service
Technology used to remove pollutants in vent gas
Quantam leap natural gas dehydrator
Anadarko, Enhancing Air Quality: Reducing Flashing Emissions
Air Quality Studies
In the West
A study out of the Denver-Julesburg Basin has found that oil and gas operations released nearly two times as much methane into the atmosphere in 2008 as the state realized. The research has been published in the Journal of Geophysical Research, Atmospheres.
EPA Needs to Improve Air Emissions Data for the Oil and Natural Gas Production Sector (Office of Inspector General)
Human Health Risk Assessment of Air Emissions from Development of
Unconventional Natural Gas Resources (McKenzi, Lisa M. et al. Colorado School of Public Health, University of Colorado) - Technological advances (e.g. directional drilling, hydraulic fracturing), have led to increases in unconventional natural gas development (NGD), raising questions about health impacts. This study found that residents living within a 0.5 mile from wells are at greater risk for health effects from NGD than are residents living more than a 0.5 mile from wells.

Colorado oil and gas wells emit more pollutants than expected (Katy Human, National Oceanic and Atmospheric Administration) - In a five year study, NOAA scientists monitoring the atmosphere's composition at a tower north of Denver found gas operations in the region leaked about twice as much methane into the atmosphere as previously estimated.
Winter Ozone Community Update, Initiatives to Cut Emissions (Produced in partnership of industry and the Wyoming Department of Environmental Quality)
In Progress
The University of Texas, eight major oil companies, and Environmental Defense will collect emissions data from drilling to product delivery in four regions — the Gulf Coast, Mid-Continent, Appalachia and the Rocky Mountains.
Colorado State University, in cooperation with Colorado operators, is studying drilling, fracing and completion emissions to see how those fumes disperse and interact with the environment.
More Information
Federal and State Contacts: Search by state and find your local air agency's contact information.
EARTHWORKS: EARTHWORKS is a non-profit organization dedicated to protecting communities and the environment from the destructive impacts of mineral development in the U.S. and worldwide.
Natural GasSTAR: This Web site is home to the Natural Gas STAR program that encourages oil and gas companies to adopt efficient and cost effective technologies to reduce emissions.
Red Lodge Clearinghouse: This website is a joint project of the Natural Resource Law Center. This site provides information on the key concepts of the Clean Air Act as well as links to additional information on air quality regulations.
Wyoming Department of Environmental Quality: This website provides real time online air quality monitoring from the state's visibility network..